Get ready for this year's Migraine and Headache Awareness Month. Learn how you can use your voice and join the migraine community in advocating for treatment access.
June is National Migraine and Headache Awareness Month (MHAM). This is a time for the migraine community to champion advocacy and research, build community and raise awareness for migraine.
Migraine impacts 1 billion people and is the second leading cause of disability. Though migraine is so prevalent, many do not realize the immense impact it has on society. It is the American Migraine Foundation's mission to be the center of migraine advocacy. June is the month that the migraine community can show the world how united it is against this disabling disease.
2022 MHAM Theme: Advocate for Treatment Access
AMF announced that this year's MHAM theme is Advocate for Treatment Access. The theme will help break down barriers that stand between patients and treatments.
More than 50% of people with migraine go undiagnosed. Providing educational resources is the first step to reducing the stigma of migraine. Ensuring those living with migraine receive the care they need is not an easy task. But spreading awareness about migraine is one of the most important things we can do as advocates for treatment access.
Medical professionals around the world work to provide the right migraine treatment plans to patients. Unfortunately, step therapy can put barriers between patients and the treatment they need.
Step therapy is a restriction on prescription coverage set by private health plans. In short, step therapy forces patients to first try a cheaper treatment option. Patients can only move on to a more expensive treatment after failing a cheaper option. Breaking down these "fail first" operatives is one way the migraine community can advocate for better treatment access.
Get Involved and Advocate for Treatment Access
This year's MHAM features many different opportunities for you to get involved. Here are some of the ways you can participate with AMF this MHAM:
Two Faces of Migraine
It is not always obvious who lives with migraine. Migraine can strike out of nowhere and change the course of someone's whole day. During June, you will have the chance to share photos of yourself on a good day and a bad day, when migraine is in full force. We hope these side-by-side photos will not only show the world the severity of migraine but also how strong and relentless you are.
Take the Pledge to Move Against Migraine
In this unique opportunity, you can take a pledge to never let migraine define who you are. After pledging, you will get access to an exclusive, virtual "sticker" that shows you took the pledge. Share the sticker with your friends to encourage them to pledge and move against the disease that affects so many.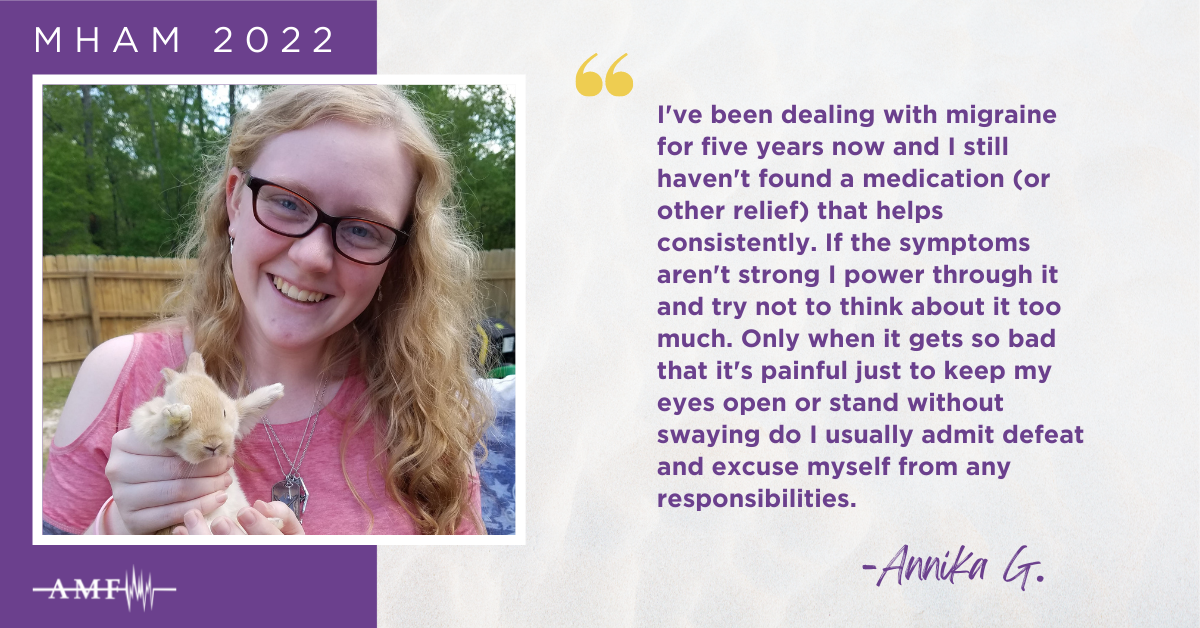 Migraine State of the Union Webinar (Date To Be Announced)
What better way to cap off MHAM than to hear from leading migraine experts? This event, led by Dr. Newman, will take a comprehensive look at the migraine community. We'll look back at last year's achievements and look forward to another year of success. Join us as we celebrate how far the community has come and where we are heading.
Stay tuned for more information and how you can register for this year's Migraine State of the Union.
MHAM 2022 Calendar
June 1 – Headache at Work
June 6 – Veterans with Headache Diseases (D-Day)
June 7 – Remembrance Day (Honoring Those We've Lost to Headache Diseases)
June 19 – Disparities in Headache (Juneteenth)
June 20 – Headache Diseases and Men (Father's Day)
June 21 – Shades For Migraine
June 29 – Chronic Migraine Awareness Day
June is the migraine community's time to take center stage. It is our time to educate the world on migraine, a widely misunderstood disease. We also hope MHAM gives you the chance to bond with community members and stand up for treatment access. Stay up-to-date with AMF and take your seat at the table to interact with the community during our month. Whether on Instagram, Twitter or Facebook, we're here to connect doctors to patients and make living with migraine a little easier. Happy MHAM!